Our Favourite Kitchens of 2020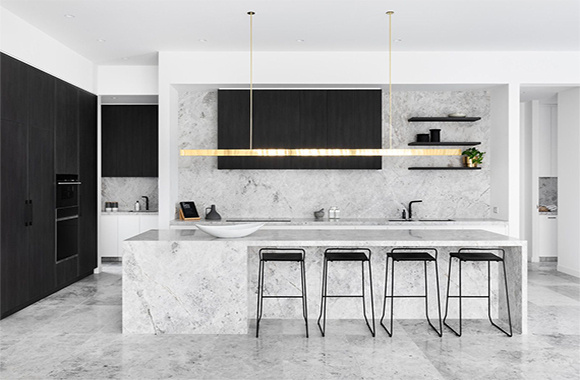 Trends come and go like the seasons change. As we prepare to step into 2021, we're reflecting on the beautiful 2020 trends that had our jaws on the floor. These kitchens showcase a variety of styles, colour palettes and layouts that you can incorporate into your home for a timeless masterpiece.
Looking for inspiration to kick off your home renovation in 2020? Below, we'll explore some of our favourite interior designs images from across the internet.

True Blue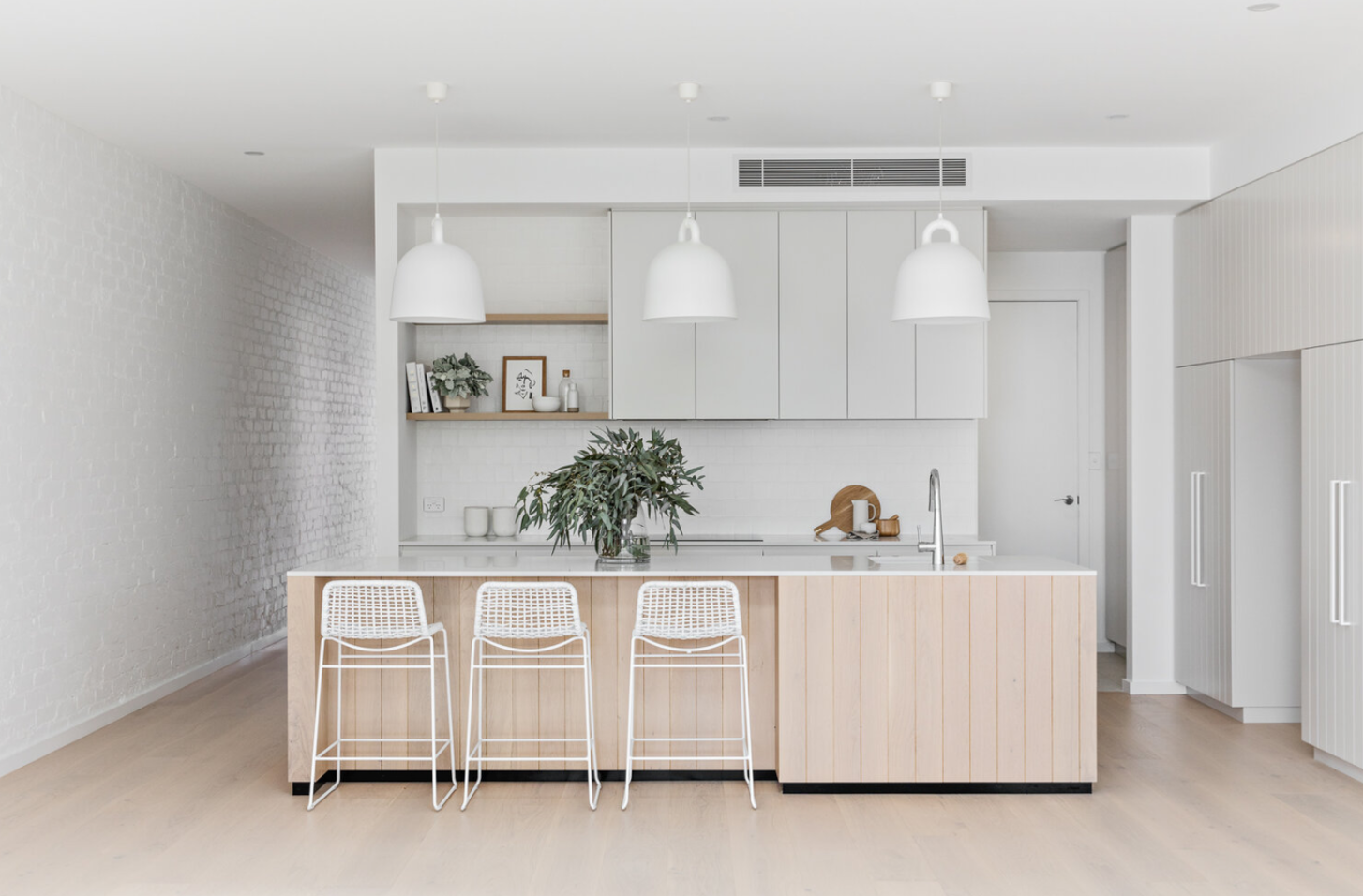 Sourced from The Stables – Sydney, Australia

If this isn't an Australian kitchen, we don't know what is. The subtle neutrals and soft warm timbers marry perfectly, the white accents are classic and pure for an ethereal, airy ambience. Here in Aussie, we know how hot summer can get, that's why the light flooring and white brick wall add a continuation of lightness and can make the home feel cool.

The contemporary curves of the pendant lights, and linear V-boarding is fresh and on trend with 2020. The natural fauna adds life and vibrancy into the space and balances out the timber shelving and neutral cabinetry.

Shop similar finishes with these products:
Monochrome Magic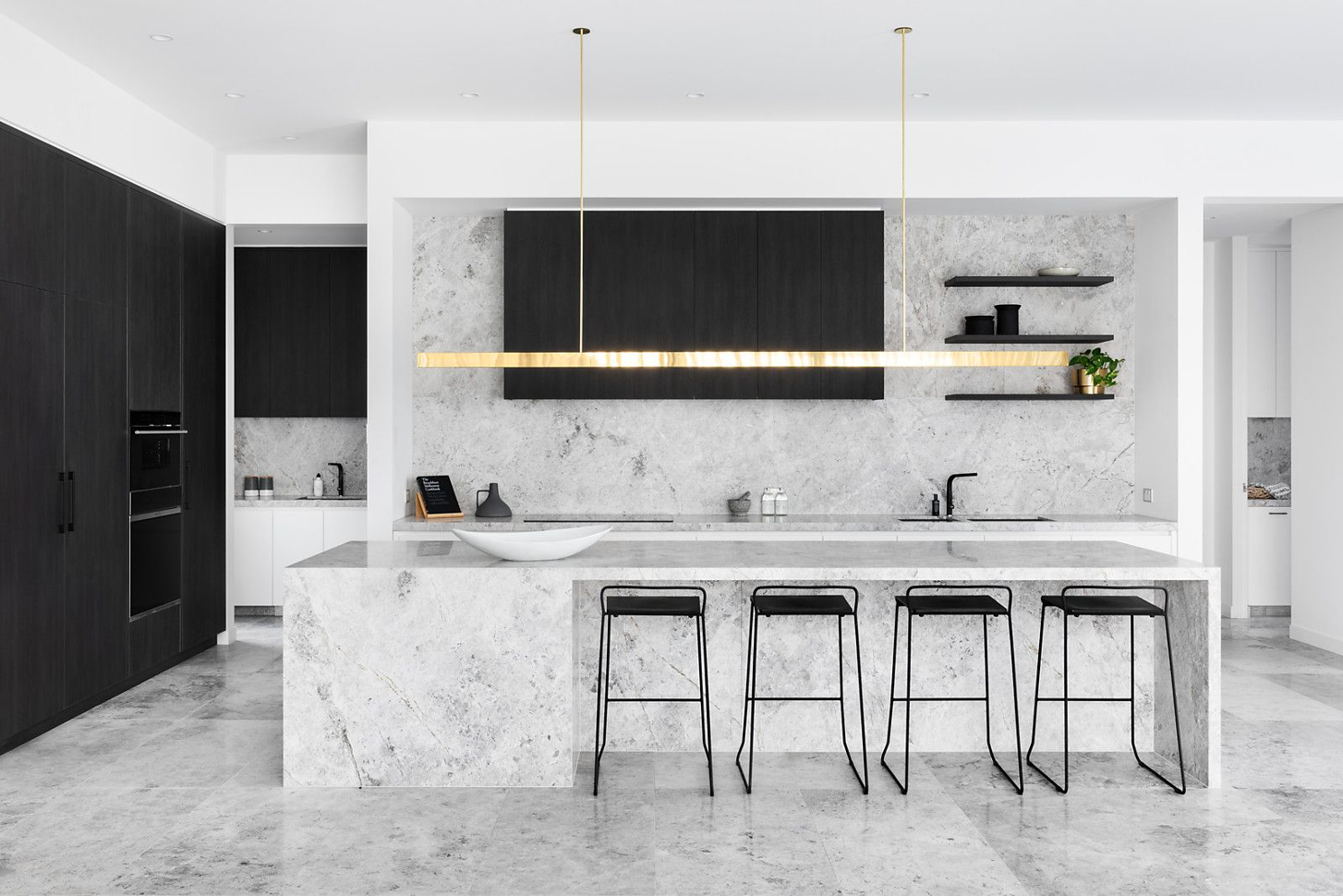 Sourced by Domain.com.au. Built by DL Property Group, Photography by Dylan James, Architect Drew Cole and Styling by Tre Stylist

Monochrome has continued to be a sophisticated style that dominates kitchen designs. Whether you choose to pick classic shade pairings like black and white or go completely neutral with a single colour in various shades the result is bound to be stunning.

This kitchen featured on Domain looks expansive and luxurious with its blend of dark wood across the cabinetry and marble incorporated into the flooring, island, back-splash and countertops. The clean minimalist façade of this space has added warmth from the brass pendant light and stylised open shelving. A marriage of contemporary and classical, this luxury kitchen is one to behold.


Shop similar finishes with these products:

Captivating Curves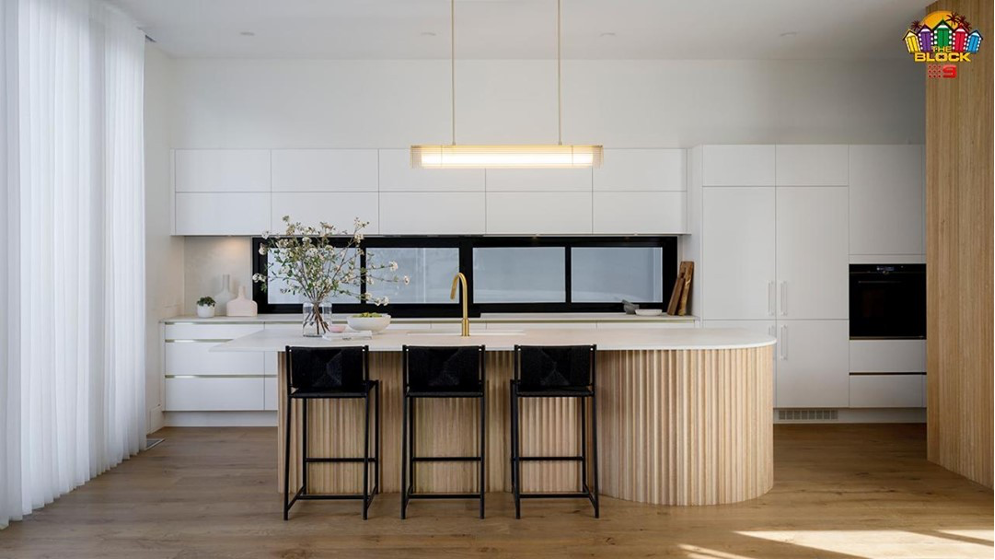 Sourced from The Block – Luke & Jasmin

How could we do one of these without including The Block? We seriously love them all and it was hard to choose, but we're in love with the curves.

This year has definitely seen the curves become a key statement piece in Australian interior design. Whether it's a wall, island, pendants or even cabinetry, we can't get enough. The soft, feminine and spacious ambience it creates in a room is dynamic and simply beautiful. The true craftsmanship of the curves is extraordinary and puts the materials in the spotlight.

The timber is definitely the hero of this kitchen, the white cabinetry and marble bench-top create a vanishing background. Window splash-backs are becoming a new staple in kitchens, featuring a beautiful view and bringing the lush greenery and natural light from outside in. The matt black chairs, appliances and window frame create a daring high contrast that elevates the neutral tones. The subtle pops of brass add a sophisticated touch and amp up the feeling of luxury.


Shop similar finishes with these products:
Black Beauty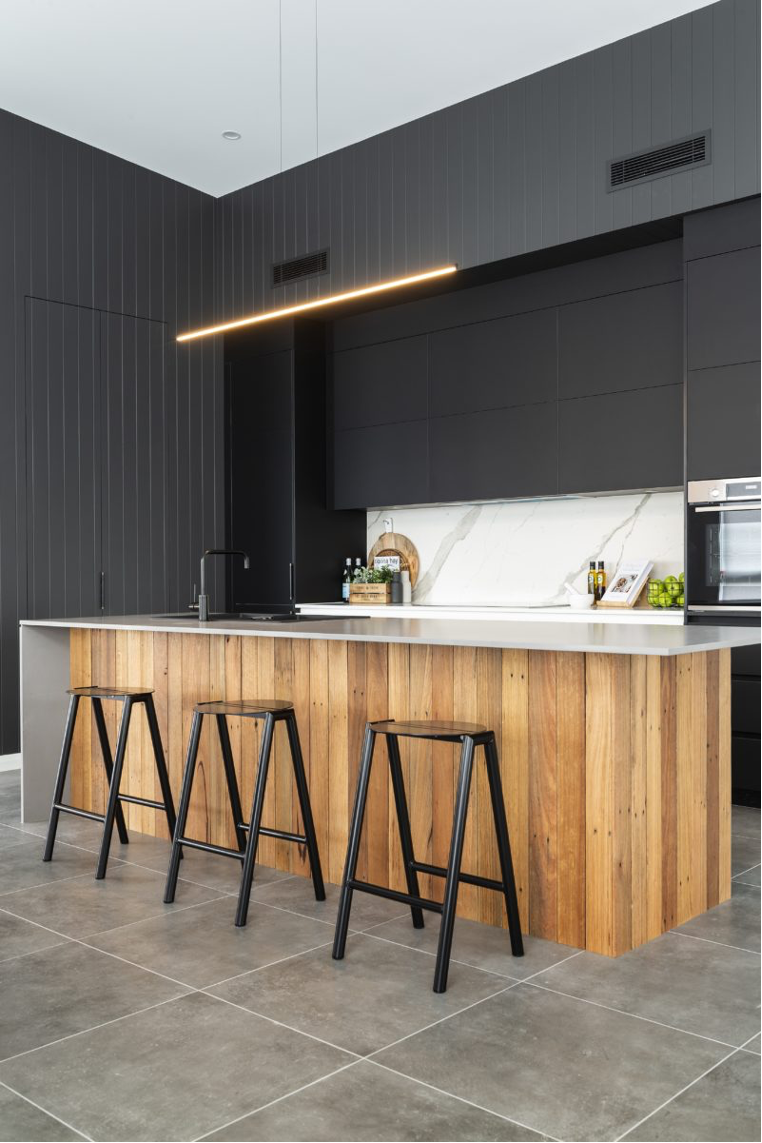 Sourced from Studio Black – Sydney, Australia.

This stunning addition from Studio Black has captured our hearts. This kitchen won the People's Choice Award as part of the Kitchen and Bathroom Design Institute Awards. And no wonder it did.

The kitchen is framed by matt black cabinetry and an invisible matching pantry with V-boarding. The timber island adds warmth and grandeur to the space, with added brightness from the concrete countertop. The veined splash-back and handleless white base cabinets blend beautifully and create a high contrast between it and the flooring.

Shop similar finishes with these products:
Bold Metallics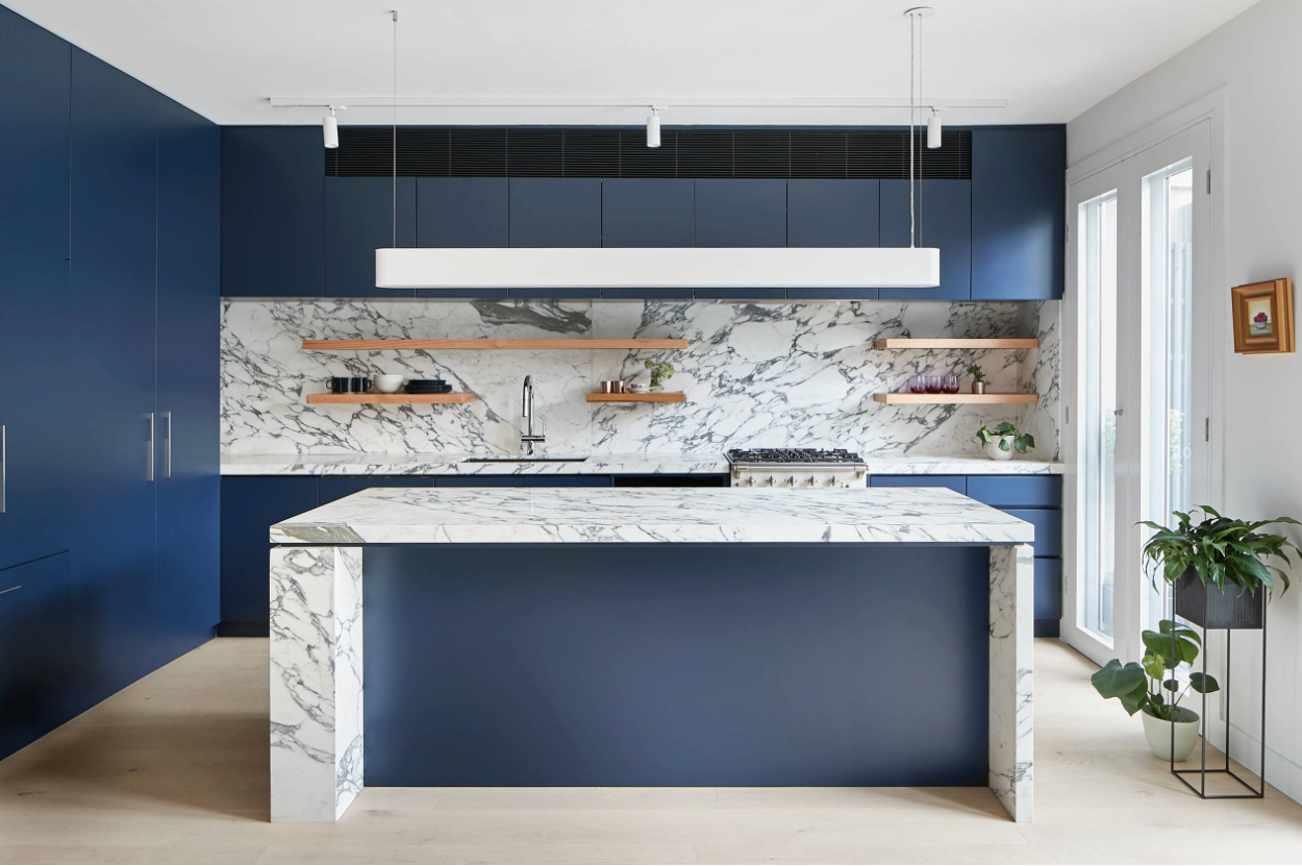 Sourced from McMahon and Nerlich, Shannon McGrath – Melbourne - Sydney


A gear change from monochrome and neutral palettes, this one makes a splash. Bright metallics have really taken over this year, mixing is in. This kitchen is home to three hardware finishes, the dominating metal is chrome. Chrome is featured in the tap-ware, appliances and handles, the supporting metal is black which can be seen in the grate, flush handles and the planter. Accented finishes are in Matt White, including the lighting fixtures which add contrast to the blue cabinetry. Juggling finishes can be an ordeal, but getting the balance right makes a home feel personal and unique.

Bold colours have also made an impact in interior design; we've loved the calming blues, serene greens and powerful plums and pinks. Colour in a kitchen can be a love or hate, but we're all in.

The composition of grained marble countertops and splash-backs is balanced well with the modern navy cabinets.

Are you brave enough to dive into colour in 2021?



Shop similar finishes with these products: