Cabinet Hinge Fixing Made Easy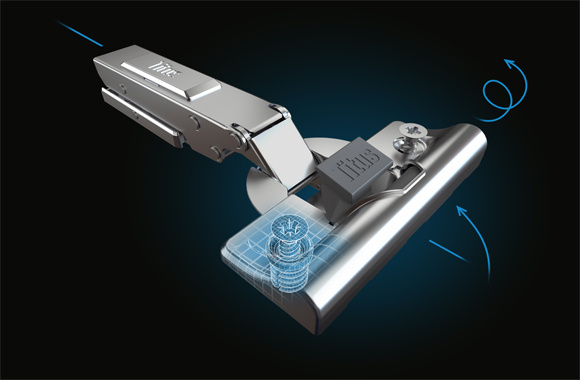 Planning and organising home improvements are exciting experiences and buying a new piece of flat-pack furniture is a big event for any household. But what happens when it comes to assembling the furniture?
All that excitement about new style and better storage facilities can quickly be overshadowed by frustration and annoyance – not to mention the family fights! Traditionally, flat-pack furniture has brought with it the challenge of dealing with lots of different small fittings, enigmatic instructions, weird assembly steps, and the potential for injured fingers. But it doesn't have to be that way – a new piece of furniture doesn't have to be a headache!
When it comes to cabinet assembly, details make all the difference, and the choice of cabinet hardware is at the heart of good furniture design. In this article we are presenting two solutions that make assembly faster and easier.


When you're assembling cabinets, a lot hinges on the… hinges! That's why Titus offer an effective solution for attaching hinges to cabinets easily and effortlessly: EasyFix. Let's take a closer look.

An important advantage of both solutions is that hinges are delivered with the screws pre-mounted on the hinge cup, so there is no need for users to search for the right screws. Furthermore, both solutions use screws with the plastic Expando feature, which means they are inserted by hand into pre-drilled holes and tightened by fixing screws. The result is consistently accurate positioning and easy installation.

Why is accurate hinge positioning so important?
There's more to installing cabinet doors than just screwing a few hinges in place – or is there? Depending on the type of hinge you choose, ensuring that the doors are level and properly aligned with the cabinet opening can involve making a lot of fiddly adjustments.


Let's imagine two situations. In the first situation, you get a cabinet door without pre-drilled holes for fixing screws to which you mount hinges with spike chipboard screws.


Unless you are a skilled cabinet fitter, you will find getting the hinge positioning right is quite a challenge. Since there is no indication of screw position, it's easy to end up with the hinge not well positioned and, if you do, you'll get poorly positioned doors that are difficult to adjust.


In the second situation, you're using EasyFix hinges cup screws. As the door is already pre-drilled with holes for fixing, there is little chance of inaccurate hinge mounting. Factory pre-drilled holes are always accurately positioned, which means that the difficult part of hinge positioning has been done for you. All you need do is simply put the hinge in place and tighten the screws. That saves time and, for doors with three or more hinges, it saves a lot of time!

How does EasyFix work?
EasyFix hinges allow even faster fixing of the hinge. The Expando feature ensures that the hinges are fixed securely, while allowing for repeated assembly and disassembly of the hinge from the door. Expando also creates a reliable joint with a simple quarter-turn lock – in just a few seconds!

Few steps towards accurate hinge positioning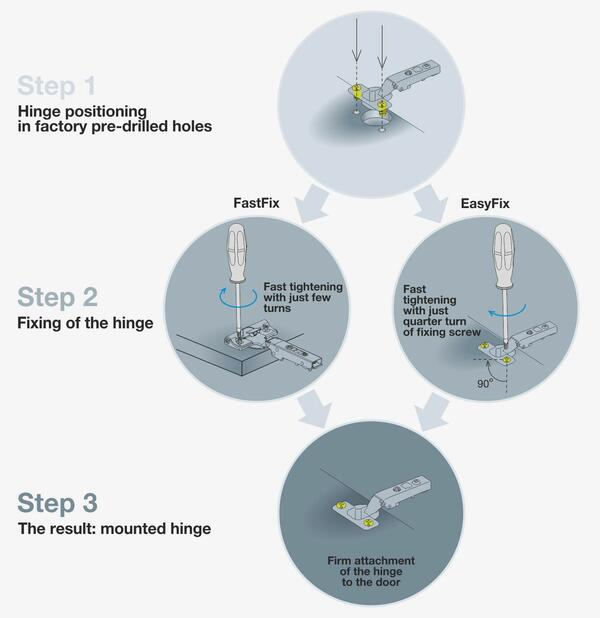 Advantages for everyone
Everybody in the furniture supply chain – furniture manufacturers, professional installers and end consumers – benefits from
EasyFix
. These innovative solutions:
• reduce the time needed for cabinet assembly
• improve the cabinet assembly experience by making it intuitive, straightforward and fast
• reduce the chance of errors, such as hinge misalignment
• minimise the possibility of claims
• offer repeatable cabinet assembly and disassembly.
EasyFix
is based on the
Titus Consumer Assembly Friendly (CAF)
principle which is all about understanding how products serve their end consumers. Titus has a deep understanding of what can go wrong during cabinet assembly and, more importantly, how to make sure it doesn't. CAF is about quick and easy consumer-friendly self-assembly of furniture with fewer parts, less component variation, less effort and no need for specialised knowhow.
The main goals for Titus are to improve the quality of furniture and reduce the cost of furniture manufacturing and assembly, while ensuring the highest level of customer satisfaction. That's what
EasyFix
is all about – providing a positive experience of assembling flat-pack furniture at home, which has never been so simple and so intuitive, by eliminating the most common problems related to hinge fixing.
View our full range of hinges
here.
To learn more about our hinges speak to your Technical Sales Representative or contact your local branch.